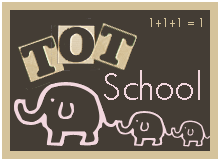 24 months
Ok, this week was pretty good for Tot School. We didn't get as much done as I had planned because Moo-Bear had another double ear infection (the 3rd one in 3 months) and she spent the better part of 2 days laying around (which is totally unlike her). Thankfully she is feeling better now!
Before I post about our week I have a question for my fellow Tot Schoolers. Moo-Bear asks all day long to do our school activities and I don't know what to tell her. I don't want to discourage her from playing with educational things, but I also don't want her to become bored with them. Do you have a set time that you do school activities? The past 2 weeks I have tried to distract her with something else, either a toy or playing outside. But, sometimes I have given in because she wants to do it so badly. Another question...I set out 5 "tot trays" and then have some other theme activities for her to do (1 or 2 each day). She flies through the tot trays and activities. I mean we can be done with it all in 10-15 minutes, but she is asking for more to do. Should I just keep giving her the same 5 or pull out more? Again, I don't want her to become bored with what we have (which is not a ton since we are just getting started and I don't have money to go buy a ton at one time). Thanks for any advice. Now onto our week!!
Our theme this week was Noah's Ark (for the letter A). Here Moo-Bear is gluing the words to her Bible verse to the paper. I got this from the
Tot Pack
from
1+1+1=1
. After she finished gluing I let her color the page.
I recently bought these
lacing animals
. She liked the idea of them and had fun playing with the animal shapes, but not so much fun doing the actual lacing. She could get the string in 1 hole and then she was done. She didn't quite get that she has to pull it through from the opposite side, if that makes any sense. So, we will keep having fun with them and continue working on the lacing part :)
I got this "A" page from
Confessions of a Homeschooler
. She didn't color for very long, but she was able to identify the letter "A". I just got her these
triangle crayons
and I think they are better than regular crayons at this age. They are washable and really do come off the walls (don't ask how I know that).
I had her putting blue and red pom-poms into a paint tray. I also had a red box and a blue box and she sorted them by color (I just didn't get a picture of that).
Of course she doesn't always do what I want. After a couple minutes she decided the pom-poms needed to go in my camera case. She also rubbed them all over her face and mine and said, "Berry Sopt".
This week we also tried out the
Bingo Dot Markers
. She liked using them,but wasn't really into putting the dots where they belonged. Oh well :)
We made a book about Noah and the Ark also from the
Tot Packs
on
1+1+1=1
. I had her glue the pieces onto construction paper. then we colored them with these great "
paint brushes
". I cut them out and laminated them with contact paper so we can read the book some more.
And of course she had to use the paint brushes to paint her fingernail!
We had an audience one day for Tot School. My little man woke up from his nap while we were working so he sat back and watched. Isn't he a cutie?!
This is what my sweet girl spent the majority of 2 days doing. This is so unlike her. My girl is a mover and she would go get her blanket and curl up on the couch.
I made some cards out of construction paper and then laminated them using contact paper. I did all the "major" colors, but we started out just sorting 2 colors. I found these cute little buckets at Hobby Lobby! I also am saving smallish boxes (mac and cheese, granola bars, etc.) and am going to cover them with construction paper, make a slit, and have her put the cards in the correct boxes (color matching). I will let you know how that goes when I find time to cover the boxes.
I got her this color/shape sorter at a garage sale for $1!! She is doing really well with it. She was self-correcting with this activity. When she put the shape on the wrong colored peg she would take it off and move it before I said anything!
She got the
Little People Noah's Ark
for her birthday so we had some fun playing with those in the rice sensory box. Mostly she just played, but occasionally I would ask her to scoop out a certain animal for me.
She had to get Daddy, her favorite person, in on the action. He was showing her how to use the funnel to pour the rice. (And yes, I do use empty diaper/wipes boxes to store things in).
Finally, we had fun with these little umbrellas from The Dollar Store. I poked holes in an empty sour cream lid and she pushed the toothpicks into the holes.
For more great ideas/activities to do with your tot check out
1+1+1=1
.