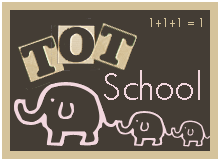 Moo-Bear is 25 months

This was a very busy week at our house. On Monday we went to the zoo with our MOPS group. It didn't go so well. I think Moo-Bear was still tired from our quick trip to LR so she was very whiny, etc. So, we didn't end up staying very long. Her favorite part was feeding the giraffes. Unfortunately, we did that first and then she thought we got to feed all the animals. Of course, that brought many tears when I had to repeatedly tell her we didn't get to feed any more animals. Anyway, my parents came on Thursday and are leaving tomorrow. With all that we only got 2 days of Tot School in and even on those days we didn't do much! But, it was a wonderful week anyway!


The big bear at the zoo. He just paced back and forth. poor thing was so sweaty :(
Moo-Bear and her good friend watching the animals!
My Little Buddy. He was such a good boy at the zoo. Hardly fussed at all :)
She also loved watching the elephant do tricks. It hopped on 3 feet, turned in circles, and waved bye-bye with his trunk!
Me and my sweet girl enjoying the zoo!
She thought it was so cool to feed the giraffes :)
I love how you can see the goldfish in her mouth.
Since we went to the zoo on Monday I decided to find some zoo things for her to do. I had these foam zoo stickers from Hobby Lobby and I put one on a file folder and she matched the other one.
I got these animal print craft sticks (I think Hobby Lobby) and then used old yogurt containers. She had to sort them by pattern. She did pretty well with this, but I think I gave her too many sticks b/c after about 20 she just wanted to fling them around the room!
A close-up of the activity!
We pulled out the golf tee, again. I tried to get her to put blue on one pegboard and red on the other, but she didn't want to do that. Someday (when I have time) I am going to make
this
golf tee activity from
Fun Frugal Mommy
for her to do.
finally, we got out the Noah's Ark Little People to play with in the rice. I figured these were animals we saw at the zoo and something fun for her to do!
She kept eating the uncooked rice ;)
Playing with the Little People.
I had to include a picture of my little man. He doesn't do Tot School yet, but this was his first time in the jumperoo. He likes it as long as big sister doesn't bounce it for him :)
Hope everyone had a great week with your tots! For more great ideas check out
1+1+1=1
.