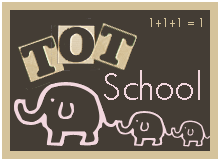 24 months

This week we continued with the letter "A" and focused on apples. We didn't get quite as much done because I have been feeling "blah" all week and my little man didn't sleep well a few nights so that made me pretty tired!
To start of the week we did a little apple painting. She wasn't too fond of this, even if it looks like she was. She really doesn't like to get her hands messy!
As you can see she decided she needed a little on her face!
I got this idea from
here
. I kind of made up my own thing based on some ideas here. I took some red and green balls from our collection and we pretended they were apples. She threw them into the tub, looked for them around the yard, and threw them out of the tub. It was pretty fun! In this picture she is saying she really doesn't want to do this.
We painted an apple tree.
I cut out 2 apples of each color and we played a matching game. She did great with this. I don't know that she can name all of the colors, but she knows which ones look the same!
I also cut out 2 different sizes of apples and we sorted them. She did ok with this, but wasn't very interested. I am pretty sure she knows big and little because when she gets food she always asks for a big one and if you give her a small one she whines ;)
I just bought this
Aquadoodle
at Wal-mart and I really like it. It is just a big mat and the thing you write with you just fill up with water and there is a sponge on the end. No mess!! Except for I did catch Moo-Bear sucking the water out of it :)
We tried the clipping clothespins again. I guess it is hard work!
This one she actually really like...for about 3 minutes. I got the buckets from Hobby Lobby and the colored pieces are word tiles I got when I taught 1st grade. We just used them for color sorting.
This is a shape toy I just got her from Wal-mart. We are working on learning the names of shapes so as she was hammering we talked about the shape.
This week we tried to string beads using pipe cleaners. She wasn't impressed!
I had a box of tangrams and shape sheets from when I was a teacher so I pulled that out for a bit. She liked it, but we got distracted taking pictures. She loves it when I have her on my lap and hold the camera out to get our picture.
And, this has nothing to do with apples, but we made cookies together. She really likes to help dump the ingredients into the mixer, but doesn't really like it when i turn the mixer on!
Just a little side note. It may look like she loves all these activities because of the pictures, but she typically only does each activity for a matter of seconds so I tend to have the camera ready as soon as we get started so I can get a good picture of what we are doing. she has a super short attention span and most of our school time is spent with her asking for "another game", which is what she calls our activities!
For more great ideas go on over to
1+1+1=1
.