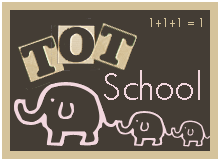 24 months
We didn't get quite as much done as I had planned this week, but that was ok because Moo-bear was really into reading books so we did A LOT of that (no pictures since she was on my lap while we were reading).

Here she is sorting large, medium and small butterflies. I got this activity from
Confessions of a Homeschooler
. She liked it ok and did well with it, but she would only do it one time and then she wanted nothing to do with it!
We also did the do-a dot sheet from
Confessions of a Homeschooler.
She really likes to use her bingo markers. She doesn't get that she is supposed to put the dots on the circles, but that's ok for now :)
I have seen this idea in many places and it looked easy and fun. She colored a coffee filter and then we sprayed it with water. This made the colors bleed and it looks really neat. When it dried we scrunched it up in the middle and tied a pipe cleaner around it. I don't have a picture of the final product.
This butterfly magnet sheet also came from
Confessions of a Homeschooler
. She loves to play with pom-poms, but this activity didn't keep her interest for very long (there really aren't many activities that do).
I bought these butterfly sequins and we just played with them. She loved it. I think I got them from Wal-mart.
She loves playing with these little chicks. I got them from
Oriental Trading Company
. She is supposed to use the tongs to transfer them from the bucket to the paint tray,m but she usually ends up using her fingers.
I made this game for her because we are really working on colors. I just covered some boxes (mac and cheese, baggies, etc) with construction paper and cut a slit in the top. Then I cut some rectangles from construction paper and laminated them. She just puts the colored rectangle in the corresponding box. She liked it pretty well!
She loves looking at pictures so I printed some off of our family and laminated them. I had her matching them. It was pretty difficult when they were just all on the table so I think i will make a file folder game out of it. That way one set will be stationary and she can just place the match on top.
My girl loves pom-poms. I put one of each color in each muffin cup and gave her a handful to sort. She did this much all by herself. One time she took the whole baggie and sorted them all correctly!
I just put some magnetic letters on a cookie tray and we talked about them and moved them around. It must be hard work (we like to go to Sonic happy hour!).
I had this bucket with some wooden shapes in it so I cut holes in the top for each shape and made our own shape sorter. It was lots of fun!
We pulled out the playdough and our spring themes cookie cutters and made some shapes.
Finally, I hid butterflies in a bowl of uncooked pasta. She had more fun eating the pasta, but that's ok :)
Check out
1+1+1=1
for more great ideas!!