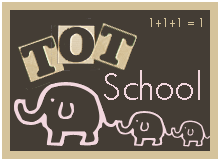 33 months

I must be a total slacker because we didn't get in much Tot School again this week and I don't have many pictures. I was sick for a couple of days, Bud had his 1 year check-up and I am now watching another little one 2 days a week. So, I guess that is why I didn't get much done. We still play with "educational" toys a lot, but we haven't been doing a lot of the themed activities and such. I really wonder what I am going to do when Moo-Bear starts "real" homeschool because I won't be able to slack as much. I guess I will just have to enjoy it now and worry about that later ;)

We had a couple of days in the 70's here so we really took advantage of it. We went on lots of walks and even had a picnic one day! We were out running a couple of errands and I told Moo-Bear we could have a picnic when we got home. So, we got home and I told her I had to get lunch ready and she cried because she "didn't want wunch, I want a picnic". I got to explain to her that a picnic is when we eat lunch outside.
Papa and Grandma were visiting from Texas because we had Buddy's birthday party this weekend. So, grandma was able to join us for our picnic.
Moo-Bear is totally attached to this Clifford costume right now. In fact, one day we went to Panera for lunch and I let her wear it and she barked at someone. Thankfully the lady was very nice about it ;) Anyway, here she is gluing cotton balls onto a paper to make a snowman. Anything with glues and cotton balls is a hit around here!
I got her this
Cranium Caribou
game at a consignment sale. It doesn't have directions so we just played with it and figured some things out. I don't know how to actually play the game, but there is a little key and you stick it into the holes and the little "thing" pops up. She is trying to find all the bouncy type balls underneath these "things". Once you find them all you put them in a little slot and the treasure chest opens up. There are cards with it and I think somehow you are supposed to match colors/letters/numbers, etc. But, she just had fun looking for the balls and making the treasure chest open up. I plan on looking on-line for instructions for next time!
So, that was most of our week. We have a lot going on again this week so we probably won't do a whole lot. On Wed. we are having a coffee playdate here and then going swimming at the YMCA. Then on Friday we are going to a Youth Fitness Zone about 45 minutes away. It is for gymnastics, but on Friday they have open gym. Then we will probably have lunch and do a little shopping. We live in a small town so there are a few stores I would like to hit up while we are there. My sweet hubby is taking off Friday so he is going to stay home with Bud so Moo-Bear and I can have a girls day!!
Saturday we are welcoming a new family member, our puppy!! He will finally be 8 weeks old so we get to go pick him up and bring him home!!! We are getting an English Mastiff. My hubby has always wanted one so this is very exciting!
Hope everyone had a great week. Check out
1+1+1=1
for more great ideas!!