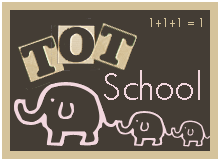 29 months


Well, this was a slow week again! On Monday, I drove to the airport to pick up my mom. She is staying with us for almost 2 weeks. So, since I was sick for a few days (flu, maybe?) and she is here we didn't do any "formal" Tot School. It was more just play and have fun with grandma while mommy rests :)
I just got this walk-to-ride lion toy back out and of course Moo-Bear loves it. Budski likes to watch her play!
Moo-Bear is teaching Budski how to play the xylophone. It was so cute. Today she was playing it and singing Frosty the Snowman. I couldn't quite get to my video camera fast enough!
Moo-Bear was stacking our boom cups (called that b/c when Papa plays with her he says "Boom" in a very deep voice when she knocks them over) and letting Budski knock them over. As you can tell, she LOVED it!!!
At a park near our house they had a set-up where you could make your own scarecrow. Silly me thought maybe they would be like paper bag scarecrows, but they were full-sized. Moo-Bear was a little young for this, but had a blast stuffing hay into the clothes. Mommy did the rest. Oh, and she "drew" the face on it ;)
A good friend of mine had a birthday party for her son (he will be 2). She lives out in the country so there was a hay ride and they let the kids sit on one of the horses! We all had a great time!
Grandma got out the box of dress-up clothes for Moo-Bear to play with. She would change hats and then get up on the chair to get her picture taken, which is not normal. Usually when I pull the camera out she tells me no pictures. She had a blast. Budski also got in on the dress-up after his nap, but all those pictures are on my mom's phone. He got to wear a fireman's hat and jacket ;)
And a couple funny stories. First, this is her new smile face. Don't know where she came up with this, but when we tell her to smile for the camera this is what we get. And, this morning I was changing her diaper (she sleeps with one, but is otherwise potty-trained) Budski was right by her head and she said, "Don't wook at me. I'm grumpy"!". Well, ok then ;)
Hope everyone had a wonderful week. We are going to have some more fun with my mom this next week. So, no "formal" tot schooling going on, but we will be learning a lot and having fun! check out 1+1+1=1 for more great ideas!!