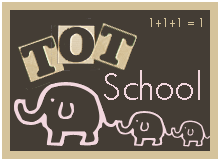 32 months

We jumped back into our tot schooling this week. I didn't have any theme so I was just going to skip, but I figured Moo-Bear wouldn't know any different. So, we just had fun with our Tot School tools that we have around the house. It was nice to get back into our routine and spend some quality time together
I found these crayon hair things so I cut them apart and used them for our school. She just put one into each compartment. I tried to get her to sort by color, but she wasn't interested. She did count as she put them in, though!
Melissa and Doug happy handle stamp set. Somehow Buddy got a hold of this and got some ink on his face
I got these foam shapes from the Target dollar spot and the ice cube tray is triangle shapes and I may have gotten it form Ikea. She used her tongs to put one in each triangle. this was the 1st time she was able to pick something up with her tongs
We were coloring when daddy got home form work so Moo-bear wanted him to join in the fun!
Little Buddy has been joining us for some of our Tot School times. I got this flower game form Walgreens. It spins around and you use fishing poles to get the flowers, except we don't anymore b/c Moo-Bear bit the end off all the fishing poles. Buddy is constantly holding things up and grunting so that we will tell him the name of the object. That boy is a learning machine
They both loved this shape hammering toy. Notice the look on Moo-Bears face in the upper left picture. She is not happy b/c Buddy is about to get in the way.

Me and the little bud were playing peek-a-boo with the tubs
I could just eat him up!
We got these tool lacing toys from a consignment sale. For some reason she had a much easier time with these than she does the cardboard ones. But, we haven't done lacing in a couple of months so maybe her fine motor skills are getting better!
So, that was our super fun week. I always have a much better week when I focus more on having fun with my kiddos and less on getting things done. I am still working on finding a good balance. And a side note: she did not wear the same clothes every day. She is obsessed with her Clifford costume and asks to wear it every day as soon as she wakes up. And I say yes
Check out 1+1+1=1 for more great ideas!