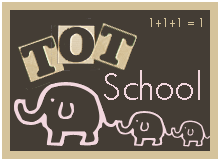 32 months

I have really been slacking with the whole tot school/blogging thing lately. I guess it just kind of takes a backseat to other things (the blogging, not tot school). We haven't done much "formal" tot schooling the past couple of weeks. I had all these great plans and even printed off a ton of stuff to use, but alas we have gotten busy. I usually do tot school in the morning when bud naps, but when we are gone in the morning it just never happens. We usually have MOPS every other Monday, Tuesday Moo-Bear goes to a mother's day out thing, and Wednesdays I try to get together with other mom's to get to know them better and let our kiddos play. So, since we do tot school in the morning there are often 3 days in a week where we don't get anything done. I don't know if I need to try to do stuff when he is awake or just fit it in when I can. We do our "games" daily, but we don't always get to any theme/letter of the week stuff.
We spent a lot of time in the kitchen baking this week. I like to make goody bags for our neighbors and for Moo-Bear and Bud's teachers at church. I had Moo-Bear "help" this year. She really loves "helping". I put that in quotes because she really isn't much help. For example, we made chocolate covered pretzel rods and then rolled them in mini m&m's, crushed candy canes, and crushed heath bars and I think most of the time I was trying to keep her from eating all the candy ;) But, she has a blast and even "helped" clean up, and by that I mean play in the sink while I tried to wash the dishes. I really want to encourage her helping though so I try to involve her in what I am doing.
Here are a few pictures of the Christmas festivities at our house!
Moo-Bears wonderful present. I bought the materials to make the tee-pee and my MIL sewed it for me! Moo-Bear loves it. I wish we could find a place for it downstairs, but it is just too big. It is in her room and she doesn't play by herself in there yet so she doesn't get much use out of it, but I am sure she will!
We got her a Dr. kit and she loves it!! She likes to "check our beep" (listen to our heartbeat) and check our ears :)
The kiddos playing with Buddy's new ball toy. The lid loves balls, although he wasn't really impressed with Christmas this year!
Moo-Bear helping mommy bake and I think she enjoyed licking the spoon.
She really enjoyed rolling the chocolate pretzels in the M&M's and she loved giving them to her teachers at church and telling them that she helped make them :)
For more ideas check out
1+1+1=1
.
I hope you all have a safe and wonderful Christmas. We will be traveling to Indiana to spend Christmas with my family for the first time since I was pregnant with Moo-Bear so we are really looking forward to it! Hopefully I can do better about keeping up with Tot School! Merry Christmas!!