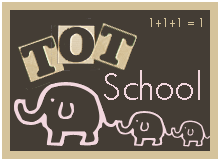 29 months

I am a little late in getting my post up this week. We had a busy weekend with grandparents in town and Sunday/Monday I was completely exhausted for some reason. We did get to do Tot School last week and had a great time!!
Moo-Bear really enjoyed doing her shape puzzle this week. I think we got it at Target!
Buddy is starting to get in on the action a little bit. He mainly just hangs out while we play. Moo-Bear was so proud of herself for stacking the blocks so high. I am noticing a huge difference in what she can do just since last May!!
We are doing the Letter A for the next 2 weeks. She really enjoyed the dot marker page from COAH!
I love how intently she is looking at this puzzle piece. I got this apple shape matching game from COAH and she did a great job. These tot school activities are not her favorite right now. She would much rather be playing with the "games", but I only pick 1-2 a day and then we get to do the other stuff. So far she is doing well with that!
Stringing beads onto a pipe cleaner. She had a hard time with this at first, but is starting to get the hang of it. She has a tough time moving her hands around to pull the bead and not having the bead fall off. But, we haven't done this in a while and she did so much better!
I got these foam shapes from the dollar section at Target. Moo-Bear is a very active girl so I thought she would enjoy setting up the colored buckets around the room and then dumping the squares in the middle. She had to pick up the squares and get them in the right bucket. And she loved it! I found her playing with this many times throughout the week!
More apple activities from COAH! We did apple color matching (2 different activities) and she also got to paint an apple, which she loved!
Some more fun "games" we played. We got out the shape/color sorter, which she loved. She cracks me up b/c she will put the wrong one on and hen take it off and say, "No, that's not right" and then move if to the correct peg! We also did a letter puzzle activity. We mostly just played with it b/c she doesn't know all her letters and especially can't match upper and lowercase, but it is good exposure to the letters. I stored the puzzle in a wipes container and when she opened it she said in her funny little voice, "What are you doing in their!" We also played with the pegs and pegboard a little bit.
Apparently I have a lot of "games" for color sorting. She loves it. And of course, we have to see how many rings we can get on our fingers!
And out most exciting activity of the week…the clips!! She has never been able to do these, but I wanted to try again. So, at first she just kept saying, "I can't". I would tell her yes, you can and shoe her how to do it. Well, she finally figured it out and she was so excited. I can't even tell you how many times we played with it this week. She was so proud of herself for figuring it out. And I was a proud momma, too :)
For more great ideas check out 1+1+1=1.