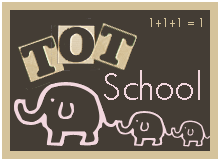 28 months

We got home Tuesday from our travels so most of our week was spent recovering, cleaning, getting groceries, etc. I also spent time planning our tot school for the year/week. We are really looking forward to getting back into our "school" time. Well, I know I am for sure and I really think Moo-Bear will enjoy it once we get started. She just doesn't know yet :)
The one activity she did this week was to take these blocks and sort them into the baskets. I had a red, yellow and blue basket and placed them around the room. She dumped the blocks in the middle and then ran around putting them in the right baskets.
Then of course she decided to dump them on her head!
I got the idea for this "calendar" from
1+1+1=1
. I wanted to do something very simple with Moo-Bear since she is still pretty young, but at the same time give us a little structure for our Tot School time. So, I made this board to have in our school room. I have our verse of the week from Totally Tots, the weather from
1+1+1=1
, the day of the week and other songs from
1+1+1=1
, a nursery rhyme, and our shape/color/number/letter of the week. For now I plan on changing things out every week and as she gets older I will let her help!
My plan is to do the letter of the week from Erica at
COAH
. We may spend 2 weeks on most of the letters and we will not do all the activities she has b/c I don't think Moo-Bear is ready for them. We will also use a few things from
Brightly Beaming Resources
. This site has a curriculum to use before you begin a letter of the week. It is a lot more basic and simple. From there I plan to use the letter/shape/number of the week as well as doing a nursery rhyme of the week. So, between these 2 sites I will have my basic plan for the year. And of course I will incorporate some open ended tot school toys every day as well. I am really looking forward to doing this with Moo-Bear and hope you'll check back every week to see what we've been up to! For more great ideas check out
1+1+1=1
!!