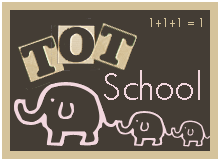 26 months

I kind of decided for Tot School we would mainly just be doing tot trays for the summer. We are busy traveling and stuff so I just want it to be fun and laid back. In September I plan on starting back up with themes, etc. Here are some of the things we did this week!
I got out the American flag toothpicks and styrofoam again /c of the 4th!
Random pic.of my little man. Moo-Bear thought he needed to play dress-up with us. good thing she pick the soft, foam hat for him!
She really likes to do this workbench shape thingy!
I got this little metal thing with holes in it at Ikea. I think it is supposed to be a holder for kitchen utensils. It worked great for sticking straws into the holes!
I got this magnetic fishing puzzle at Target. The same idea as the Melissa and Doug, but a little cheaper ;)
She really wanted to play in the rice so we pulled it out along with her boom cups (stacking/nesting cups). She calls them boom cups b/c when her g-pa plays with them he says, "Boom" in a very deep voice when she knocks them over!
I got some really cute ice-cube trays at Ikea when I was in Houston. I wanted her to put these little bike thingies in the trays, one per slot, but she had more fun just doing whatever with them. And she really didn't want to use the spoon either.
And, her new favorite is stamps. However, she really just likes to stamp herself. Oh, and of course me. I have to tell her to stamp under my pant leg or skirt so if we go out later I won't look funny ;)
So, there you have our fun week! As a side note...if you have an Aldi near you they are advertising these plastic, colored cutting boards on sale next week (starting Wed). It is a 4-pack with one red, yellow, blue, and green. I think they will be great sorting mats so I am going to try to pick one up!
Check out
1+1+1=1
for more great ideas!