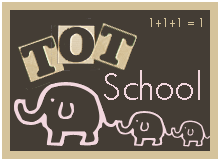 This was our first week to give Tot School a try! I wanted to wait until I had to time to go all out, plan a theme and make it really good. But, I was anxious to get started so we just went with what we had. Moo-Bear probably won't care about themes and such anyway. So, when I have a little more time we will start doing more things, but for this first week I was pleased with what we did. And more importantly I think moo-Bear had fun with it!
It was really nice out so we took a book outside and had some fun reading!
I bought some sidewalk chalk and we ended up taking that out on the back patio and drawing/writing with it. I would draw shapes or write letters and have Moo-Bear tell me what they were. She would scribble :)
We also learned a little bit about plants. We have tons what Moo-Bear likes to call "blow flowers" so we spent some time collecting them, blowing them, and talking about how we were spreading the seeds all over the backyard. I don't think her daddy really likes us spreading dandelion seeds, but it's all in the name of learning ;)
We also have a lot of "helicopters" in our backyard so we had a lot of fun throwing them in the air and watching them spin to the ground!
This was our first "official" tot school activity. I took some mini clothespins and clipped them onto the container. Moo-Bear was supposed to un-clip them and place them in the container. I think they were a little difficult to pinch open because she was just pulling them off. With some practice I think she will be able to do it!
I bought some finger puppet bunnies from
OTC
and had Moo-Bear put one in each cup of the muffin tin. She did this one time and then just wanted to play with the bunnies. I got out the basket and asked her to put the blue bunnies in the basket to which she replied, "No, thank-you". At least she's polite about it ;) We will keep trying that one, too.
I had some golf tee and peg board games from when I was a teacher and thought they would make good fine motor skill practice. Moo-Bear liked it ok, but it didn't last too long!
For this last one I bought some of those umbrella toothpicks from the Dollar Tree and had Moo-Bear stick them in the holes I poked in the sour cream container. She did great with this one!
All-in-all I think this week went great. Every time I brought something out Moo-Bear would say, "Oooohhhh" in her most excited voice. Granted she didn't always do what I wanted her to or for how long I wanted, but she did enjoy it and I think it will just get better. I am looking forward to being able to spend a little more time planning so I can have some really fun and crafty things for her to do. I have been looking forward to homeschooling for a while so it is nice to be able to do some things with her.