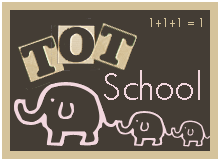 33 months

This week we did Q for Quilt, which was quite fitting with all the cold weather and snow we had! I had a lot of fun with my kiddos this week. Most days we just hung out in our jammies. On Friday I took Moo-Bear to a town about 45 minutes away and went to a gymnastics place. They have open gym on Friday mornings so we took advantage of that, along with some other mommies from our MOPS group. It was a wonderful time. After that we went to lunch and did a tiny bit of shopping. It was so nice to get out after being in the house all week!
Moo-Bear did such a great job with her tongs this week. She is getting so much better at using them to pick things up. These are some heart erasers and the ice tray I got from Ikea.
We are working on size order and it is very difficult for her. This is the quilt size sort from
COAH
. I am just going to keep making these and attempting it every week.
Here is my little man hanging out while we are doing some Tot School. When Moo-Bear does her letter of the week work he either naps or just plays with some of the tot school toys.
Moo-Bear was so proud b/c she only put dots on the circles this time. And, once she was finished she covered the whole page, but at least she started out doing it right ;) This is also from
COAH
.
We got out the Valentine's bin this week and it was a huge hit with both kiddos. We played with it for about 45 minutes the 1st day and it was gotten out every day after that!
I got Buddy this "jar" with hearts on it b/c he loves to put things in and take them out. He had a lot of fun playing with this all week.
Moo-Bear is learning how to cut with her scissors. She only does 1 cut (she doesn't get how to cut across the page), but it's a start. And she is so proud of herself! Also from
COAH
.
Her Aunt got her this cute camera. She absolutely loves "taking pictures" with it!
And Cooties. She asks to play with her cootie bugs all the time.
So, that was our week. We had a great time and check out 1+1+1=1 for more great ideas!